Now Available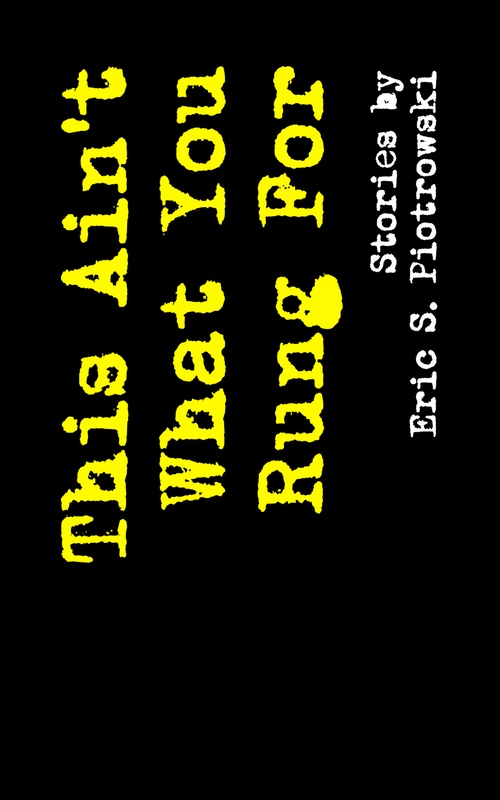 This Ain't What You Rung For is a collection of stories about war, family, video games, romance, electronic music, chewing tobacco, ethics, political resistance, garbage, metaphysics, prison, and life.
Fiction: Paperback
$11.00 / £7.00 / €8.50
To support independent bookstores, please buy the book from IndieBound. (It's also available from Amazon, if you must go there.) UK readers can order from AmazonUK. (It's also available in France, Germany, and Italy.)
Find us on GoodReads.
To hear background info and some excerpts, listen to episode 86 of the Didactic SynCast. You can also watch my book talk from August 2013 below, and see photos here.


People have been sending photos of the book in their possession. Check out the gallery.
Contents
z
Respawn
Kr Services, LLC
Lost Track
Imposition
The Fiction Journal: 31 Shorties
Letter to a Young Writer
Do not read this book if you are looking for the following: vampires • unrealistic dialogue • tripe • derivative scenarios • video game cheat codes • ways to slim down for summer • hogwash • easy meals for under five dollars • insipid morality tales • heartwarming fables for the whole family • inspiring biographies of famous people • edgy postmodern nonsense • quaint stories about pastoral communities • things related to sports • melodramatic crime sagas • zombies • struggles for power among royal families • epic fantasy adventure • teenagers attending magical schools • steampunk crap • bad writing • leaves • wet leaves • funny lists • partisan politics • snakes
Praise for Eric S. Piotrowski
"As soon as I finished 'Agoraphobia' I wanted to read it again."

Deidre Jarecki Rohr
"In general, however, Eric's narrative strategies work."

Arthur McA. Miller
New College project evaluation (1996)
"He trys way to hard to get the students to pay attention"

Anonymous student at RateMyTeachers.com
Frequently Asked Questions (FAQ)
Q: Why should I buy this book, if so much of it is available for free on your website?
A: Because there's lots of new stuff in it. Besides, who reads stories on a computer screen? Don't you want to support authors by paying for their work? Fortunately, I don't need the money, so I don't really care if you buy my book or not. I just want you to read it.
Q: Is this book available for my Kindle, Nook, iPad, or other tablet device?
A: No. You have to read it the old-fashioned way, with ink on paper.
Q: Will there be an audiobook version?
A: Probably not. I'm trying to buck the trend of everything being ephemerally digital. It's old-school all the way with this.
Q: Why publish this, before one of the four novels you've written?
A: Those novels need a lot of work before they're ready for a general audience. I've been writing and revising these stories for years, and they're all in excellent condition. So I bundled them together and printed 'em up.
Q: What's in "The Fiction Journal"?
A: From the introduction to that section:
Every day in my Creative Writing class, I put two prompts on the board — one fiction and one non-fiction. Then we write for ten minutes. I have written over a hundred little stories in response to the fiction prompts.

These are a few of my favorites, in no particular order. In most cases they have been tweaked and revised after the initial burst of writing. After each story I've included some notes and the original prompt.
Two selections from "The Fiction Journal" are online: The Envelope and This Sucks.